Last week, we reported a 7-base point decrease in average rates for the 30-year fixed-rate mortgage. But it doesn't seem to be the conclusion, or at least not what we expected. For the third consecutive week, 30-year FRM rate dipped, now setting another year-low record according to Freddie Mac's Primary Mortgage Market Survey.
The Report
The 30-year fixed-rate mortgage average, though remaining relatively flat, still fell by 1 basis point from the previous week, for the week ending June 1, 2017. Last week, the average was at 3.95 percent. At the same time last year, the average finished at 3.66 percent.
Meanwhile, 15-year FRM concluded at 3.19 percent, unchanged from the previous week. A year ago, the 15-year FRM average was at 2.92 percent.
On the other hand, the 5-year Treasury-indexed hybrid adjustable-rate mortgage average increased to 3.11 percent this week from last week's 3.07 percent.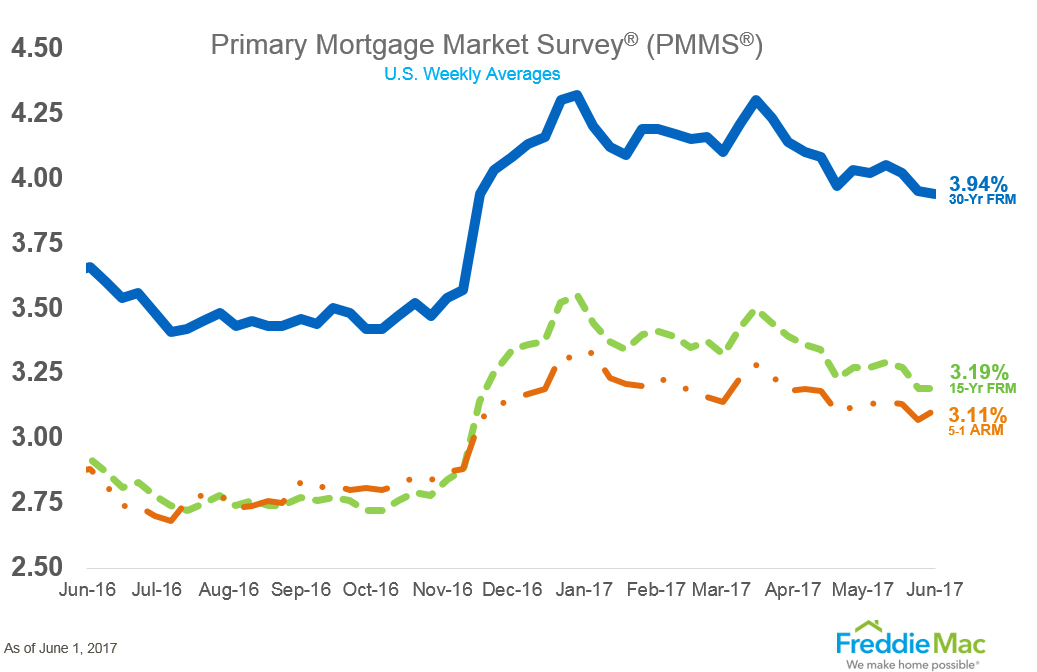 »Click Here to get Matched With a Lender»
For purchases and refinancers, the extension is just the perfect timing you need to save thousands on your mortgage payments. Lock now or brace yourselves for the possible rate lunge forward, sooner than later. The two-day Fed meeting, set for June 13 and 14, is predicted to adjust rates higher. Add that to the positive job growth from the recent jobs report.
The Survey
The Primary Mortgage Market Survey® was established in April 1971 as the foremost source of mortgage trends in the regional and national level. Its data is utilized by both the public and the mortgage industry at large to gauge market conditions and evaluate mortgage loan options.
Survey Parameters
The survey results are gathered based on lenders' most popular mortgage products – inclusive of 30 and 15-year FRMs as well as adjustable-rate mortgages. The first-lien prime conventional conforming home purchase mortgages (with an LTV of 80 percent) are considered primary basis for the survey. Meanwhile, the U.S. Treasury yields are used to index ARMs. Lenders are asked to provide the a) initial coupon rate and points, as well as b) ARM margins for this purpose.
»Click Here to get Matched With a Lender»