After falling for two consecutive weeks, mortgage interest rates remain steady, in tune with the 10-year Treasury yield for the week ending August 3, 2017. The 30-year fixed-rate (FRM) average rose slightly by 1 basis point.
[sc_content_link label="Our lenders can answer your questions about FHA loans here."]
The Report
According to the latest Freddie Mac Primary Mortgage Market Survey report:
A little higher than last week which concluded at 3.92 percent, the 30-year fixed-rate mortgage finished at 3.93 percent – within historic low range, though still below last year's 3.43 percent average.
The 15-year fixed-rate mortgage averaged 3.20 percent the week prior. Offsetting the slight increase for the 30-year FRM, it finished at 3.18 percent in average for the survey week. A year ago, the 15-year FRM average was at 2.74 percent.
Meanwhile, the 5-year Treasury-indexed hybrid adjustable-rate mortgage (ARM) had the same fate as the 15-year FRM, falling a few rungs lower compared to the last week's average (3.18 percent) to 3.15 percent this week. During the same time a year ago, the average was also significantly lower at 2.73 percent.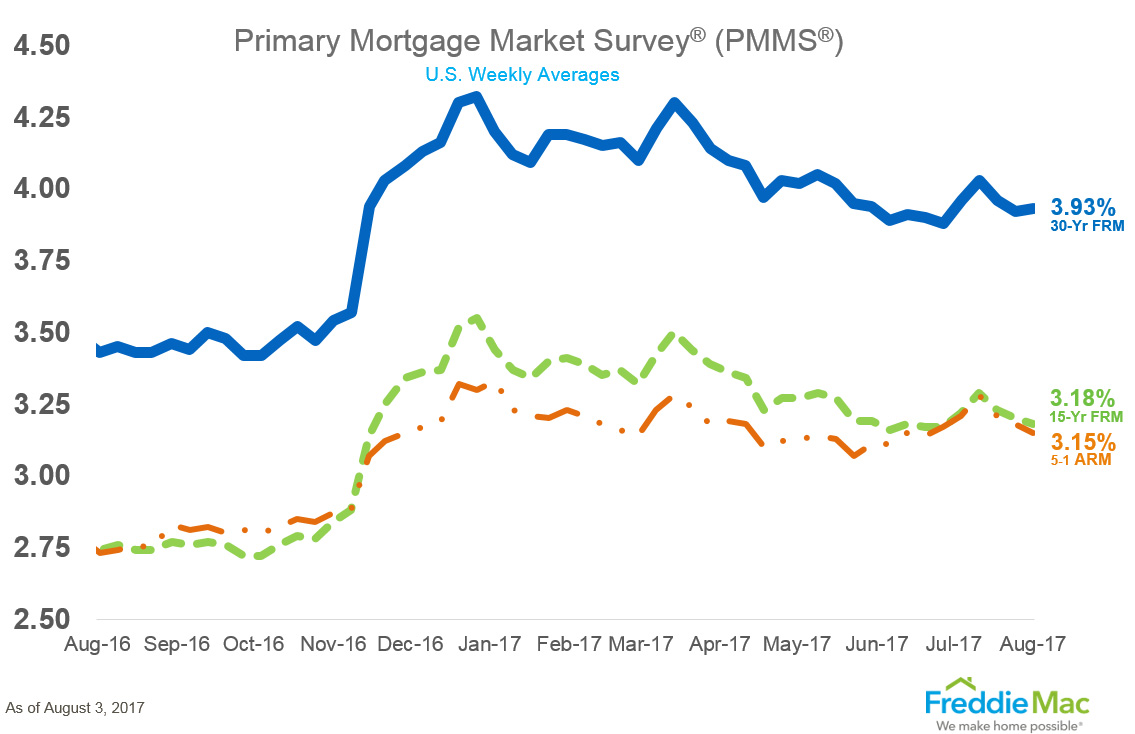 The Survey
The Primary Mortgage Market Survey® was established in April 1971 as the foremost source of mortgage trends in the regional and national level. Its data is utilized by both the public and the mortgage industry at large to gauge market conditions and evaluate mortgage loan options.
Survey Parameters
The survey results are gathered based on lenders' most popular mortgage products – inclusive of 30 and 15-year FRMs as well as adjustable-rate mortgages. The first-lien prime conventional conforming home purchase mortgages (with an LTV of 80 percent) are considered primary basis for the survey. Meanwhile, the U.S. Treasury yields are used to index ARMs. Lenders are asked to provide the a) initial coupon rate and points, as well as b) ARM margins for this purpose.
[sc_content_link]