Just months after the worst wildfire in California's history, the state is once again hit by another inferno. How will this natural disaster impact SoCal's real estate industry? Here's what experts have to say.
Corelogic's recent Hazard Risk Analysis revealed that around 86,000 homes in Southern California are at risk of damage from wildfires.
A total of 86,242 residential properties within Ventura and Los Angeles counties are currently at some level of risk from the Thomas, Rye and Creek Wildfires. These homes have a combined reconstruction value (RCV) of $27.7 billion.
Of all properties considered at risk, around 72,716 homes or 84 percent are considered at Low or Moderate risk of wildfire damage. Meanwhile, about 16 percent or 13,526 homes with a combined RCV of $5 billion fall within High or Extreme risk of damage.
Although only 16 percent are at significant risk, it is worth noting that wildfires are easily spread and can wreck nearby properties so it still poses a serious threat even to homes with low to moderate status.
[sc_content_link label="Get today's mortgage rates."]
Risk score
Using data analysis and algorithm to determine an area's risk score, CoreLogic was able to map the level of threats for each zip code in California. To properly define the scope of the term, the Wildfire Risk Score indicates an area's susceptibility to wildfire damage including its proximity to other areas considered highly risky.
The table below shows these along with their respective reconstruction value or RCVs.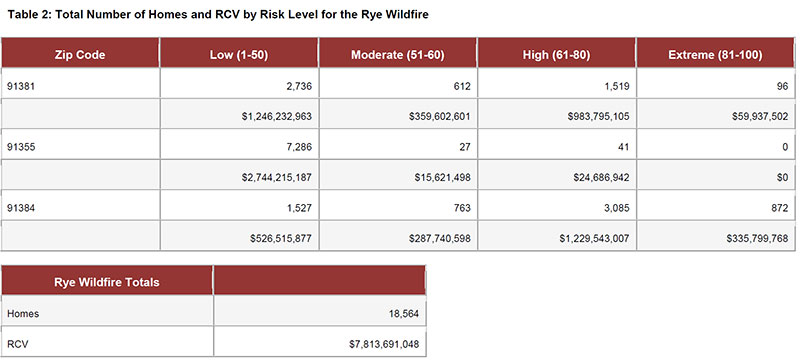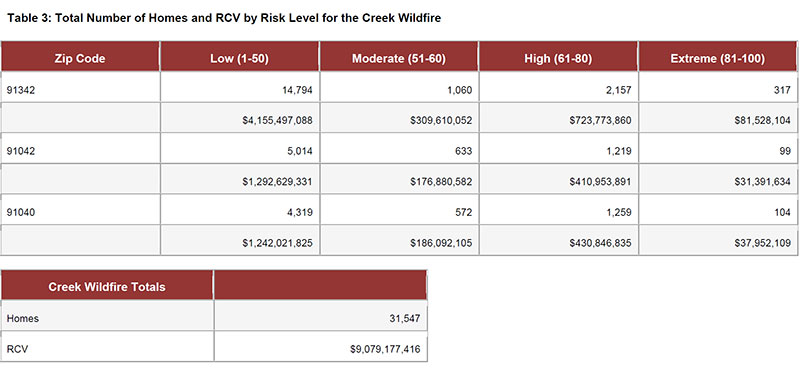 Just two months after what is considered the deadliest wildfires in California's history, the state is once again facing the same threat as another conflagration ignites.
Just last Friday, six wildfires in the southern part of the state scorched over 141,000 acres of land, displacing some 212,000 individuals and leaving hundreds of buildings and real estate properties in total destruction. According to the California Department of Forestry and Fire Protection, no casualties have been reported but several people were injured.
[sc_content_link label="Find a lender today!"]
How natural disasters affect real estate
Typically, major disasters cause real estate prices in affected areas to drop. But this wasn't the case in the wine counties of Sonoma and Napa where the previous wildfire blazed. In fact, prices shot up with the average prices of single-family homes increasing by 6.1 percent in Sonoma and 7.5 percent in Napa for the month of September to November.
What happened?
Experts attributed this price appreciation to the residents' insistence to stay in the area. Despite the fact, the location is still considered by most to be a desirable place to be and citizens are willing to take a risk and pay whatever it costs to do so.
Along with all the rebuilding are investors and other homeowners from California's wealthier districts who flocked into these neighborhoods to offer hefty prices to undamaged properties. Asking prices are even known to cost as much as $200,000 than the properties' original values.
Would the same anomaly be expected in SoCal's real estate market post fires?
Experts don't think so. This would be because Los Angeles' cityscape is significantly different from the larger areas in Napa and Sonoma. Buyers who look for new homes are also looking at the neighborhoods and they would most likely not want to be reminded of disaster as other homeowners in the area rebuilds.
For those homeowners who want to get their homes back, they will most likely have to spend some considerable amount of money as construction demand in the area is naturally expected to surge.
For now, the state of California is focused on evacuation, relief, and plans for rebuilding while residents are looking into the possibility of undergoing the dreaded insurance claims process.
For mortgagees affected by the fires, you may start looking into the potential of getting forbearance from your lenders.
[sc_content_link]