On average, a US homeowner has seen his or her equity rise by $13,400 from the first quarter of 2016 to the first quarter of 2017. This is according to the home equity analysis conducted by CA-based information and analytics company CoreLogic. Per the report, about 63 percent of homeowners also had their equity positively shoot by $766.4 billion in total since the first quarter a year ago. That accounts for an increase of 11.2 percent year-over-year. What does this mean for over half of the homeowners' equity-rich demographic?
The home price factor
The increase in home prices is seen as a major contributor to this rise in home equities. As housing inventory continue to lag behind demand, the market is pushing prices up to keep the balance. According to the data, over a million of homeowners have achieved positive equity in the span of a year, while those with negative equity have decreased.
Furthermore, almost 91,000 homeowners were able to regain their equity in the first quarter of this year. Meanwhile, over 3.1 million mortgaged residences are still upside down.
Need mortgage financing? Let us help.
Report highlights:
The states with the highest percentage of equity-rich homes include: Texas (98.4 percent), Utah (98.2 percent), Washington (98.2 percent), Hawaii (98.1 percent) and Colorado (98 percent). Meanwhile, the states with the highest number of negative equity homes are: Nevada (12.4 percent), Florida (11.1 percent), Illinois (10.5 percent), New Jersey (10.2 percent) and Connecticut (9.9 percent). For scale, these five states combined make up 32.6 percent of the overall outstanding mortgages in the country.
Among the states surveyed, Washington recorded the highest year-over-year increase in homeowner equity – $37,900. The overall average year-over-year is only at $13,400.
Breaking the stats down to the metros, the ones with the highest recorded average of positive-equity homes are: San Francisco-Redwood City-South San Francisco, California (99.4 percent), Denver-Aurora-Lakewood, Colorado (98.6 percent), Houston-The Woodlands-Sugar Land, Texas (98.5 percent), Los Angeles-Long Beach-Glendale, California (97.3 percent) and Boston, Massachusets (95.6 percent).
On the other hand, metros with the highest number of negative-equity residential properties include: Miami-Miami Beach-Kendall, FL (15.7), Las Vegas-Henderson-Paradise, Nevada (14.2 percent), Chicago-Naperville-Arlington Heights, Illionois (12 percent), Washington-Arlington-Alexandria, DC-VA-MD-WV (8 percent) and New York-Jersey City-White Plains, NY-NJ (5.3 percent).
The following is a chart of the details of the report: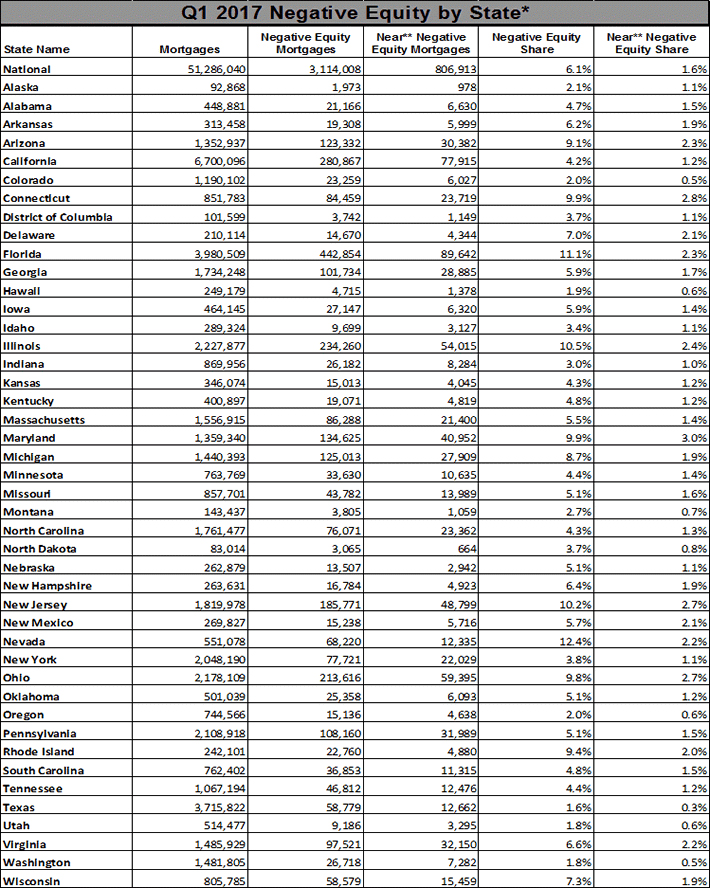 An increase in home equity favors homeowners who wish to refinancein the near future. They can tap into this equity via a cash-out refinance or through the good old Home Equity Loan. With today's historically low interest rates, refinancing makes all the sense. If you are uncertain of the decision to refi, speak with a professional and be properly guided.